Return to overview
Kayserzinn
The Rhenish firm "Leuconide Metalware Factory and trading Company J.P Kayser and Son in Krefeld- Bockum was known for its progressive style and was the leading factory of making pewter in the period 1894-1912.
The firm's workshop was situated in Krefeld-Bochum and was under the direction of Jean Kayser. The design studio was set up in Cologne in 1894 by Engelbert Kayser (1840-1911).
He was the "father of Kayserzinn".
Among the artist employed full-time in the design studio were:
Hugo Leven(1874-1956),
Karl Geyer (1858-1912)
Hermann Fauser(1874-1947)
Karl Berghof(1881-1967).
Hans Stoltenberg-Lerche (1867-1920)
Another outside designer was Professor Johann Cristian Kroner(1838-1911) a Dusseldorf painter of hunting-scenes
The hunting motifs in relief are found on several dishes that were so popular at that time. They were based on his designs. Also a French artist Jean Garnier was the designer of several items.The Kayserzinn firm received generous recognition at home and abroad in a short space of time
They received a Gold medal at the Paris World Exhibition in 1900, another Gold medal at the First Exhibition of Modern Art in Turin 1902 and carried off a similar prize at the
German-National-trade Exhibition in Düsseldorf.
Finally they received a Gold medal at the ST.Louis Universal Exhibition in 1904(U.S.A)
J.P Kayser and Son had around 400 workers in 1898. In 1900, 500 founders alone were working for the firm. At the time of the Paris Exhibition the work-force reached 800 workers
After 1904 there was an economic decline ,and after 1906 the staff of the Cologne design-studio was reduced and also the pewter production.
The price of pewter was extremely unsteady.The artistic significance of Kayserzinn died with the death of Engelbert Kayser in1911.
Kayserzinn object are numbered from the (fictitious) number "4000" onwards and with the word"Kayserzinn"
All objects are marked this way ,either in a circular or oval frame,or horizontally.
The number ,4000 , was introduced in 1894/5 the last number 4999 was produced in 1925.
StatCounter - Free Web Tracker and Counter
The marks of Kayserzinn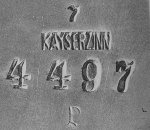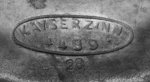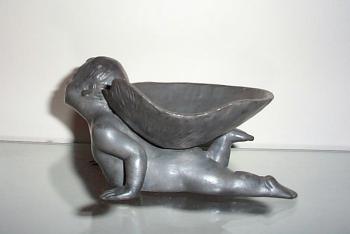 4142 kayserzinn baby soap dish
kayserzinn baby soap dish
date : 1898 - 1900
designer : Hugo Leven
marked : kayserzinn no number but is nr. 4142
length :5.0 inch / 12.5 cm
height : 2.5 inch / 6.0 cm
kayserzinn tray
date :1898 /1900
designer : Hugo Leven
marked : kayserzinn 4174 in a oval
length :10 inch / 25 cm
width : 7.8 inch / 20 cm
4184 kayserzinn flower vase
kayserzinn flower vase
date :1898 /1900
designer :unknown
Marked : kayserzinn 4184 a P and 27 stamped
detail ;this vase was once gilded
height : 13 inch /33 cm
width :3.5 inch /9.0 cm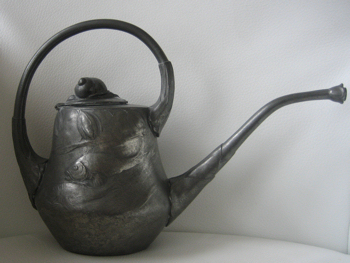 4205 Kayserzinn watering can
Kayserzinn watering can
date :1898 / 1900
designer : Hugo Leven
marked : Kayserzinn 4205 in a circular
lenght : 10.5 inch / 26.0 cm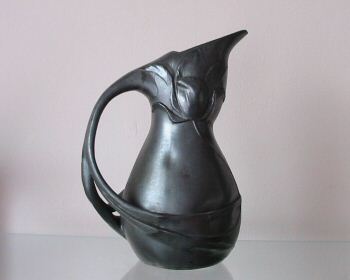 kayserzinn jug
date :1898 / 1900
designer : H. Stoltenberg-Lerche
marked :kayserzinn 4220 stamped
height : 7.5 inch / 19.0 cm
4224 kayserzinn rinse bowl
kayserzinn rinse bowl
date :1898 /1900
designer : unknown
marked : kayserzinn 4224 in a circular
Ø 5.5 inch / 14 cm
4234 kayserzinn soap dish
kayserzinn soap dish
date : 1898 / 1900
designer :Hugo Leven
marked : kayserzinn 4234 in a circular and a nr 15 stamped.
height : 2.3 inch / 5.0 cm
Ø : 6.7 inch / 17 cm
Kayserzinn tray
date 1898 / 1900
designer : Hugo Leven
marked : kayserzinn 4264 in a oval
lenght : 10.0 inch / 25.0 cm
kayserzinn basket
date : 1898 /1900
designer : Hugo Leven
marked : kayserzinn 4296 in a circular
width : 11 inch / 28 cm
4322 kayserzinn bread tray
kayserzinn bread tray
date : 1900 /1902
designer : Hugo Leven
marked : kayserzinn 4322 in a oval
height:1.7 inch / 4.0 inch
length :12.7 inch /32 cm
width : 7.7 inch / 19.5 cm