Return to overview
Eduard Hueck
The firm ( founder Wilhelm Hueck) existed already in 1813 as a button factory, later on his son Eduard Hueck and an uncle (same name) gave the Lüdenscheider factory a reputation of avant-garde art.
From 1901 until 1906 they worked with the designers of the Art Colony Darmstadt such as:
Joseph Maria Olbrich ,Peter Behrens and Albin Müller.
The HUECK-EDELZINN ( ca 90% pewter ,5-10 % Antimony and 0,5-5 %copper)
was made in a press and bore the mark of the designer.
The marks of Eduard Hueck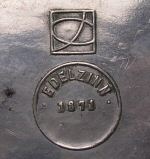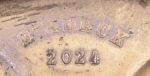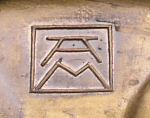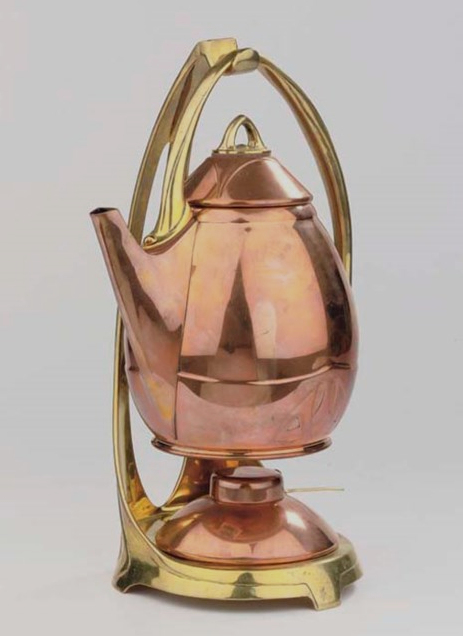 Eduard Hueck copper kettle on stand
date : 1904
designer : Albin Müller
marked : E. HUECK 2029 and monogram AM
height : 12 inch / 33.5 cm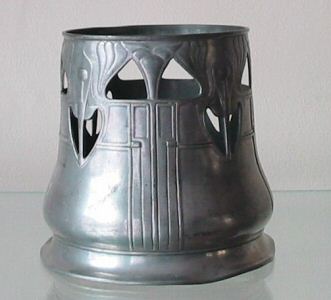 Eduard Hueck wine botle stand
date : 1904
designer : Joseph Maria Olbrich
marked : Edelzinn 1871
signature JMO
height : 4.5 inch / 11.0 cm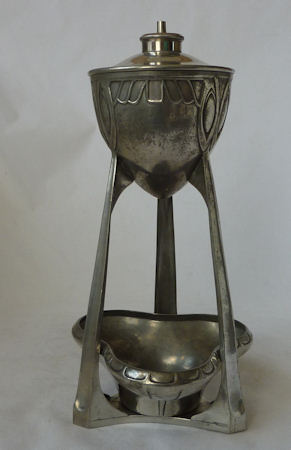 date : 1903
designer : Albin Müller
marked : E. Hueck Silberzinn 1848
height : 8.7 inch / 22.0 cm
date : 1904
designer : Albin Müller
marked : E. HUECK 2036
height : 5.0 inch / 12.5 cm